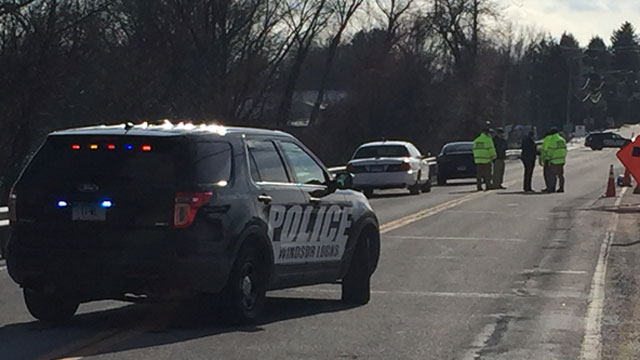 A pedestrian was struck by a motor vehicle in Windsor Locks (WFSB)
WINDSOR LOCKS, CT (WFSB) -
A flagger in a construction zone was struck by a vehicle in Windsor Locks on Thursday afternoon, according to police.
The crash happened around 11:30 a.m. on Route 159, also known as South Main Street, near Palasido Avenue and the Windsor town line.
The road was closed in that area, according to police. Police said that area would be closed for several hours, however it has since reopened.
Police said the unidentified flagger was struck by a passing vehicle and was rushed to St. Francis Hospital with non-life-threatening injuries.
Police said the driver stayed at the scene and is cooperating with investigators. Department of Transportation officials said the driver caused the crash by reportedly failing to stop at the construction site.
The victim was on the crew that was fixing a guardrail on South Main Street.
The crash is under investigation by the North Central Municipal Reconstruction Squad. Police said it is too early to decide whether criminal charges will be filed against the driver.
Copyright 2016 WFSB (Meredith Corporation). All rights reserved.