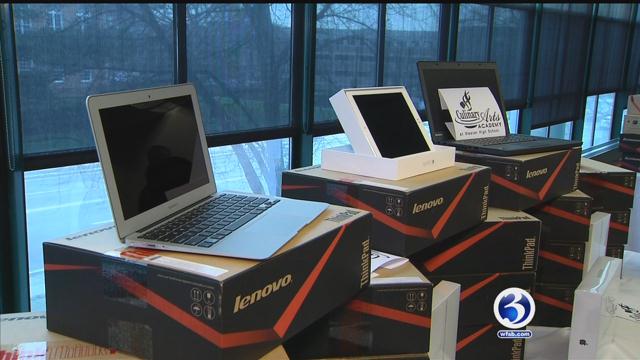 Cigna donated 50 new laptops to Weaver High School. (WFSB)
HARTFORD, CT (WFSB) -
It was a huge disappointment for Hartford students and their principal when 35 laptop computers were stolen on Sunday from Weaver High School.
A day later, the students had new laptops in their classrooms thanks to a local business.
Cigna, one of the state's largest health insurance companies, decided to give everyone 50 new laptops after hearing the terrible news.
They felt it was the right thing to do.
"Cigna is committed. It's part of our DNA, the health and wealth of our community," said Mark Boxer, the CIO of Cigna.
Thieves, believed to be students, broke into the Principal's office and clipped cables holding the 35 Macbook Air laptops which were stored in the office. Surveillance cameras caught the suspects breaking a window.
The school's principal told Eyewitness News they are increasing security. The school is working with their insurance company but it could take several weeks.
Copyright 2016 WFSB (Meredith Corporation). All rights reserved.