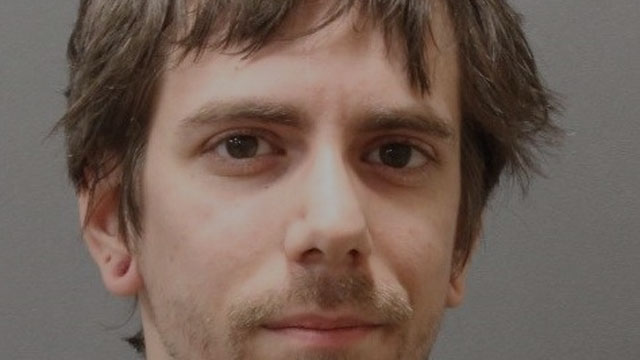 Colton Blake was arrested after several witnesses reported seeing him driving erratically and hitting several objects along the side of the roadway. (Plainfield Police Department)
PLAINFIELD, CT (WFSB) -
Plainfield police said a man was arrested after several witnesses reported seeing him driving erratically and hitting several objects along the side of the roadway Saturday afternoon.
Officers said multiple 911 calls received just after noontime reported a red colored sedan hitting multiple objects, including a telephone pole and a sign along Norwich Road. The vehicle also at one point begun traveling on the wrong side of the roadway directly into oncoming traffic, police said.
Police located a vehicle matching the description a short time later in the Plainfield Town Hall parking lot. The maroon Dodge Stratus had damage to it's front end and a smashed back window.
Police said when they spoke with the driver, 25-year-old Colton Blake of Plainfield, who claimed he did not remember hitting anything. Blake told police he had given another person a ride home, but could not recall the location. He also told officer he was the only person driving the vehicle and did confirm to officers he was in the area of the "old Agway" which is in the same area were police received their reports from.
Officers placed Blake under arrest and during a search found him to be in possession of Synthetic Marijuana. Blake was charged with operating under the influence of drugs/alcohol, possession of a controlled substance and evading the scene of an accident. He was released on a $1,000 bond and is due in court in February.
Copyright 2016 WFSB (Meredith Corporation). All rights reserved.