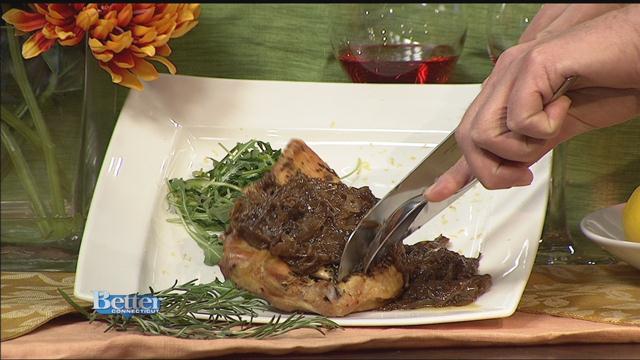 ROCKY HILL, CT (WFSB) -
Looking for dinner ideas this week? Chef Plum has some great ideas to change up your normal dinner routine. Chef Plum is a personal chef and does catering for parties and weddings. To learn more about him head to his website.
Ingredients
Roast Chicken with Onion Jam
2 chicken breast bone in
1 tbls chopped rosemary
salt
pepper
olive oil
3 large red onions chopped rough
1 tbls AP flour
2 cups balsamic vinegar
1cup chicken stock
1 tbls chopped garlic
1 tbls lemon zest

Directions:

1. Preheat oven to 400 Place baking dish in the oven to pre heat as well
2. Mix the chopped garlic and rosemary with a little oilve oil a good pinch of salt and pepper and half the lemon zest Coat the breasts with this mixture thoroughly
3. Remove the hot baking dish from the oven and pour about a tbls of olive oil into the pan. Slide in the onions to the hot pan, season with a good pinch of salt and pepper.
4. Place the chicken breasts in the baking dish, bake in the oven for 25-30 min or until the breasts are cooked through.
5. Once chicken is cooked remove from the pan and allow to rest
6. In the baking dish with the onions sprinkle in the flour and mix, add the vinegar and stock mix and pour into a pan and bring to a boil until thickened enough to coat the back of a spoon
7. Serve chicken with green veggies and a good spoonful of the onion jam
Copyright 2016 WFSB (Meredith Corporation). All rights reserved.