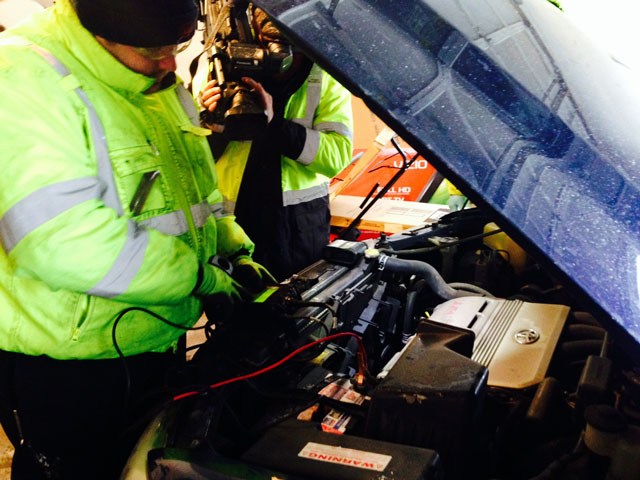 AAA crews were expected to report to many dead batteries on Tuesday morning (WFSB)
HARTFORD, CT (WFSB) -
AAA said Connecticut drivers had car troubles on Tuesday morning because of the cold temperatures.
Officials from AAA are asking residents to take precautions to prevent the "possibility of being stranded in the extreme cold."
"Even if your battery is good to go and your tires are road ready, a minor accident can become a major problem when you're stuck in single digit temperatures. Everyone on the road is at risk and must plan accordingly," AAA spokesperson Amy Parmenter said in a statement on Tuesday.
AAA said just since midnight, agents responded to almost 800 in just the Greater Hartford Area alone. About half of those calls were for dead batteries.
"When it gets colder out the vehicle requires more power to start because everything is very cold and when the battery is drained down, it gets harder to start the vehicle," AAA employee Chris Pacheco said.
AAA said ever driver should have a "fully stocked emergency kit" in their vehicle. AAA recommends the following items should be the winter emergency kit:
Mobile phone and car charger
Blankets
Flashlight with extra batteries
Extra warm clothing
Ice scraper with brush
Snow Shovel
Flares or reflective triangles
Basic toolkit
Abrasive material (sand, salt, cat litter) or traction mats
Drinking Water
Medications
For more information and helpful traveling tips, click here.
Copyright 2016 WFSB (Meredith Corporation). All rights reserved.