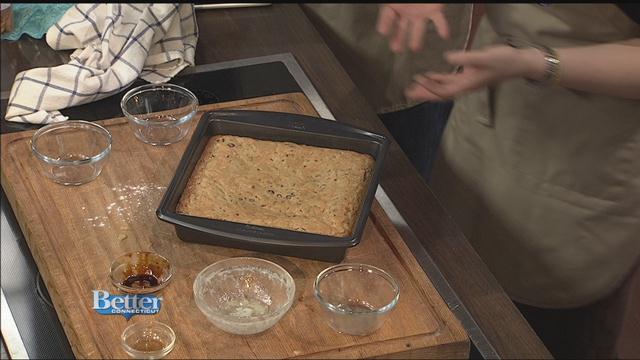 It is time to indulge, and for our Sweet Treat Thursday we turn to the Matthews 1812 House" in beautiful Cornwall. Matthews 1812 House is a local business not only sell their delicious products locally, but they ship them pretty much everywhere.
To get your cookies, pies, cakes, and so much more, take a trip to Cornwall or order them online via the Matthews 1812 House's website.
Classic Blondie with Pecans:

12 T Butter, melted and cooled
1 ¼ cup Sugar
1 T Molasses
2 Eggs, beaten
4 tsp Vanilla Extract
1 tsp Baking Powder
½ tsp Salt
1 ½ cups Flour
1 cup Chopped Pecans
1 cup Mini Chocolate Chips


Instructions:

Preheat oven to 350 degrees.
Grease and flour a 9 x 9" pan.

Whisk together flour, baking soda and salt, set aside.

Melt butter and let cool (slightly, do not let harden)
Combine butter, sugar, and molasses. Mix well.
Beat eggs slightly, add to butter mixture. Add vanilla. Mix well.
Stir flour mixture into butter mixture.
Fold in nuts and chocolate chips.
Spread into prepared pan, leveling surface of the batter.

Bake approx. 35 minutes, or until golden brown.
Toothpick inserted into the center should come out clean.
Cool in the pan. Serve and enjoy!