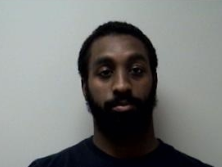 Dashaun Smith (Manchester Police)
MANCHESTER, CT (WFSB) -
Police arrested a Manchester man for selling marijuana and other drug related charges.
The East Central Narcotics Taskforce executed a search warrant at a home on Oak Street in Manchester.
Police said they received information from numerous people saying marijuana sales were being conducted on Spruce St. between School St. and Birch St.
After conducting an undercover operation, police identified the man, known as "Smitty," as Dashaun Smith, 20, of Manchester.
Police seized several items, including drug paraphernalia, a handgun, 2 counterfeit bills, $340 in cash, and approximately 2.5 ounces of marijuana.
He faces multiple drug possession charges, as well as operating a drug factory and risk of injury to a minor. He is being held on $150,000 bond.