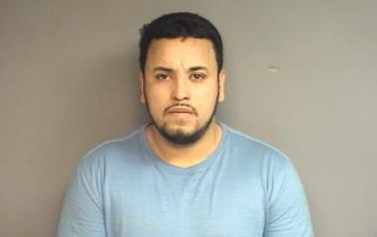 Elias Garcia-Ramirez (Stamford Police)
STAMFORD, CT (WFSB) -
Stamford Police Detectives are currently investigating an officer involved shooting on Thursday night.
Police said Officer Steven Estabrook was on patrol when he noticed a vehicle stopped on Grove St. The driver was assumed to be unconscious.
When he approached the vehicle, the driver, Elias Garcia-Ramirez, became conscious and presented a handgun.
Several shots were fired but neither were injured.
Additional officers at the scene secured the weapon, determined to be a fake, as well as a bottle of whiskey.
Garcia-Ramirez failed sobriety tests at Stamford Police headquarters and was charged with a DUI and other motor vehicle charges. He was also charged with interfering with police and possession of a facsimile firearm.
Bail was set at $100,000. Garcia-Ramirez is expected to be arraigned in court Friday.
Officer Estabrook has been placed on modified duty during the course of the investigation, according to Stamford Police.
Copyright 2016 WFSB (Meredith Corporation). All rights reserved.