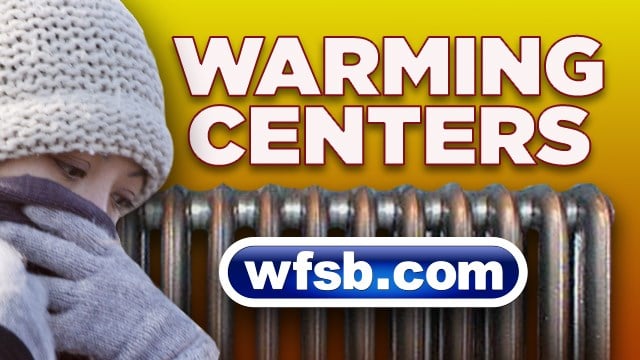 HARTFORD, CT (WFSB) -
Before snow started falling in Hartford, warming centers were opened on Saturday morning in the capital city.
Hartford Mayor Luke Bronin ordered Parker Memorial, 2621 Main St., and Pope Park, 30 Pope Park Dr., to open from 9 a.m. to 4 p.m.
The public libraries in Hartford can serve as warming centers as well. The following libraries are open on Sunday:
Hartford Downtown Library, 500 Main Street, 10 a.m. - 5 p.m. and Sun 1 p.m. - 5 p.m.
Albany Library Branch, 1250 Albany Avenue, 12:30 p.m. - 5 p.m.
Barbour Branch, 281 Barbour Street, Saturday 12:30 p.m. - 5 p.m.
Camp Field Branch, 30 Campfield Ave., 12:30 p.m.- 5 p.m.
Mark Twain Branch, 55 Forest St., 9 a.m. - 1 p.m.
Goodwin, 460 New Britain Ave., 12:30 p.m. - 5 p.m.
Warming centers are open as "severe cold weather protocol to ensure adequate shelter space during the severe cold weather." Anyone in need of overnight shelter accommodations is encouraged to call 211.
During severe cold weather, Connecticut residents are advised to take the following precautions:
Stay indoors if possible
If you must go outside, wear several layers of loose-fitting, lightweight, warm clothing rather than one layer of heavy clothing. Wear a hat and change wet clothes frequently to prevent loss of body heat.
Cover your mouth with a scarf to protect your lungs.
Watch for signs of hypothermia: uncontrollable shivering, memory loss, disorientation, incoherence, slurred speech, drowsiness, and apparent exhaustion
If symptoms of hypothermia are detected, get the victim to a warm location, remove wet clothing, warm the center of the body first and give warm, non-alcoholic beverages if the victim is conscious. Get medical help as soon as possible
For more information, click here.
Copyright 2016 WFSB (Meredith Corporation). All rights reserved.