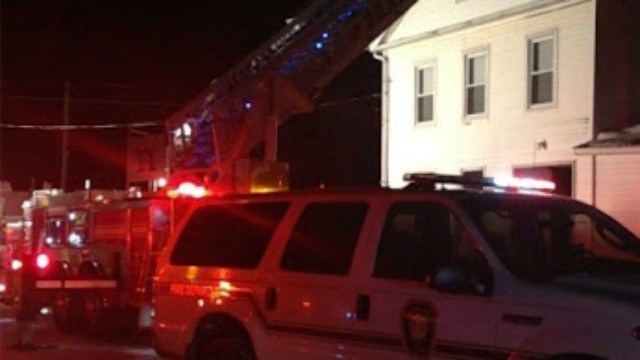 Six people displaced after house fire in the 200 block of East Main Street in Branford. (WFSB)
BRANFORD, CT (WFSB) -
Firefighters battled a house fire in Branford on Route 1 on Sunday morning.
Crews were called to the 200 block of East Main Street at around 4:15 a.m.
Officials said a plow truck driver spotted the flames.
Six adults made it out of the home safely, the fire chief said. Three cats did not survive the fire.
The fire started on the porch of the home, which has several apartments inside.
In addition to the fire, crews also had to battle the elements including deep snow banks and cold overnight temperatures, following Winter Storm Anna. Branford Fire Chief Tom Mahoney said the snow made it difficult to battle the flames.

"For us, it's mostly just keeping our footing and it makes everything else we do harder," Mahoney said. "You need extra people to move just a single hose line because you are trudging through the deep snow."
Officials said this was the second fire crews have fought in 24 hours.
It is unclear what caused the fire at this time.
Copyright 2016 WFSB (Meredith Corporation). All rights reserved.