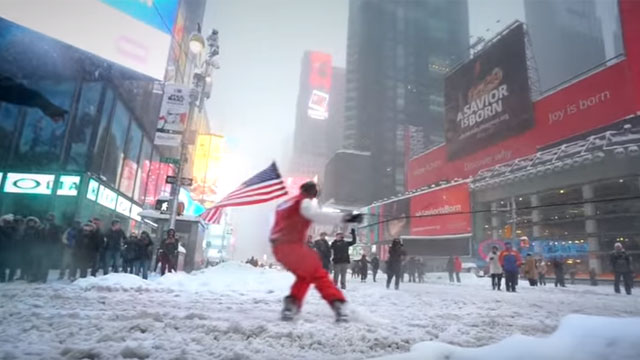 Casey Neistat snowboards through New York City. (YouTube)
NEW YORK CITY (WFSB) -
As snow blanketed New York City, one man decided to have some little enjoying a popular wintertime activity through the streets of the Big Apple.
Casey Neistat, who is a noted filmmaker and jokester, posted a video on YouTube of him being pulled by a jeep while on a snowboard through the streets of NYC.
The video is titled SNOWBOARDING WITH THE NYPD. In the video, Neistat, who along with his brother Van were raised in Connecticut, can be seen snowboarding with different women, holding an American flag, competing against a skier and sliding through Times Square. All this action happens to the soundtrack of Frank Sinatra's New York, New York.
The video ends with an encounter with the New York Police Department.
The more than two-minute video has gone viral and is trending on social media. SNOWBOARDING WITH THE NYPD has been viewed more than 1.9 million times, as of 1 p.m.
Casey and Van Neistat attended public schools in Ledyard and grew up in Gales Ferry.
To view the video on your mobile device, click here.
For more on Casey Neistat, click here.
Copyright 2016 WFSB (Meredith Corporation). All rights reserved.