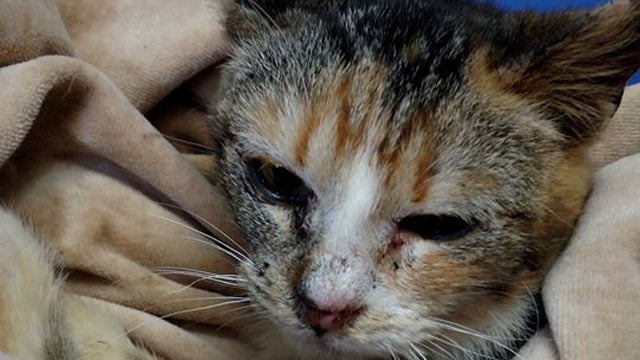 (Meriden Humane Society Facebook photo)
MERIDEN, CT (WFSB) -
A woman rescued a cat after it was plowed into a snowbank in Meriden over the weekend.
The Meriden Humane Society said the kitten, named Adalena, was spotted near the city's courthouse on West Main Street.
The group reported on its Facebook page that a young woman named Michelle saw a plow truck driver pushing snow and Adalena's body into the snowbank.
When the woman attempted to alert the driver and a nearby officer about what was happening, she said no one seemed to care.
The Humane Society said the woman raced into the path of the oncoming plow and plucked the kitten from the snow.
Employees said Adalena has a tattoo that signified she was spayed by local clinic, but she had no microchip.
The cat was said to be eating, but has an upper respiratory infection, an injured ear, and frostbite from the ordeal. The group expects the pet to be ok, but said it would take some time to heal.
It is seeking the owners to hopes of returning Adalena home.
Anyone with information about the cat should contact the Meriden Humane Society at 203-238-3650.
Copyright 2016 WFSB (Meredith Corporation). All rights reserved.