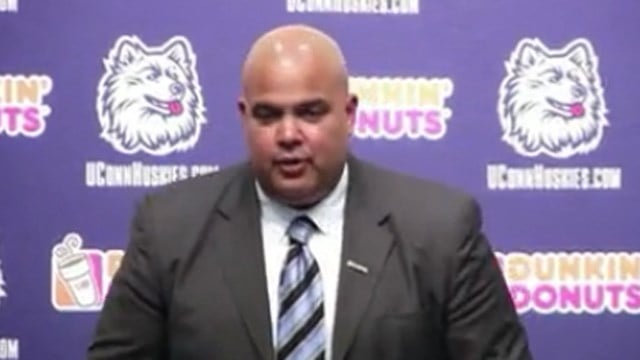 Warde Manuel. (WFSB file photo)
STORRS, CT (AP) -
Two high ranking UConn officials say the school's athletic director has been offered the same job at Michigan.
The officials spoke to The Associated Press on condition of anonymity Wednesday because Michigan has made no official announcements about the opening.
UConn athletic director Warde Manuel declined to comment about the potential job, but says he is proud of his accomplishments during his four years at UConn.
UConn President Susan Herbst says Manuel is a finalist for the job at Michigan, his alma mater, and she expects an announcement from that school in the next couple days.
Michigan athletic director Jim Hackett said in a text message Wednesday morning: "Search is confidential until announcement."
Hackett has served as AD since Oct. 31, 2014, when he came out of retirement to replace Dave Brandon after he resigned. Hackett is on the school's advisory committee for its AD search but pulled his own name out of the running.
Manuel was hired at UConn in 2012.
AP sports writer Larry Lage in Detroit contributed to this report.
Copyright 2016 The Associated Press. All rights reserved. This material may not be published, broadcast, rewritten or redistributed.