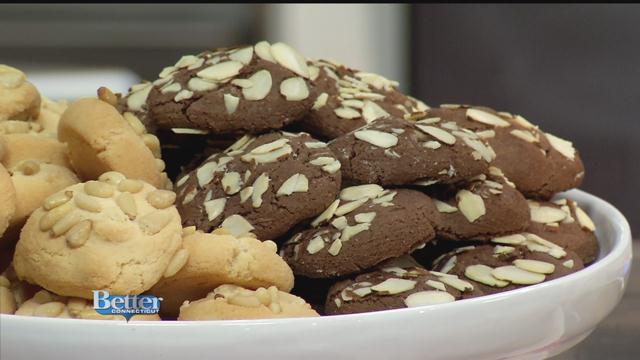 To get your hands on Sweet Maria's sweets, they are located on Manor Avenue in Waterbury! Sweet Maria's will also be at the 23rd annual Chocolate and Food Lover's Expo. It is happening this Sunday from 11 a.m. to 3 p.m. at the Southbury Crowne Plaza.
Chocolate Almond Cookies ( wheat free)
1 ½ pounds almond paste ( broken into pebble size pieces)
1 ½ cups sugar
1 cup confectioners sugar
1/2 cup cocoa
3 to 4 egg whites
2 cups sliced almonds
Method:

1. Preheat oven to 350 F.
2. In an electric mixer, combine almond paste, sugar, confectioners sugar, cocoa and egg whites on low speed until blended. Mix until smooth. This will make a sticky dough.
3. Roll dough into 1-inch balls. Roll balls into almonds to cover. Place the cookies on a parchment lined cookie sheet, spacing each 2 inches apart. Slightly flatten the tops of the cookies.
4. Bake 15 to 20 minutes or until golden brown. Let cookies cool completely on parchment.
Yields: about 50 cookies.