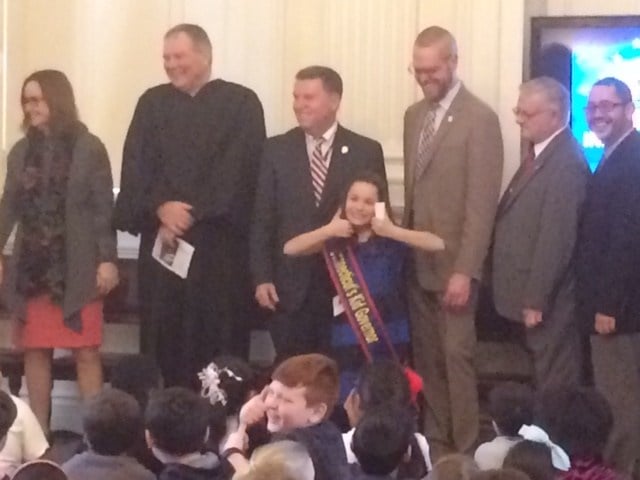 Elena Tipton (WFSB)
HARTFORD, CT (WFSB) -
Connecticut welcomed its newest 'kid' Governor Friday--and she already has a three-point plan of action.
Elena Tipton, a fifth-grader from Dr. Thomas S. O'Connell School in East Hartford, was sworn into office for her year-long term at the Old State House Friday morning.
Secretary of the State Denise Merrill conducted the ceremony, where over 200 teachers and students attended.
The state created the pilot program this past year to teach fifth-graders about government, elections and the importance of civic engagement.
Tipton won the mock election back in November, when hundreds of students across the state voted for her after running on a "Campaign for Kindness" platform.
Tipton's "kindness" campaign outlined a three-point plan, which encourages kids to participate. They include making the 13th of every month "Kindness Day," bringing buddy benches to Connecticut school playgrounds and creating an online blog where the state's students can share their acts of kindness.
More information about the program is available here.
Copyright 2016 WFSB (Meredith Corporation). All rights reserved.