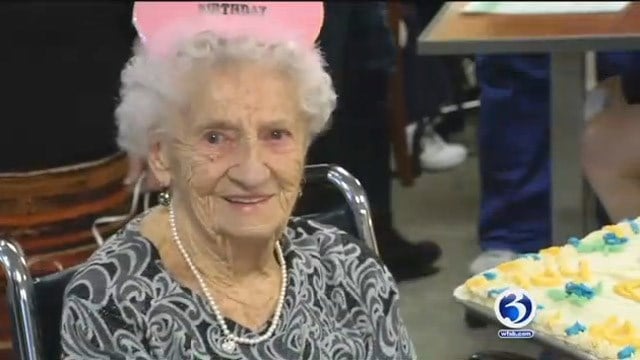 Margaret Smith celebrated her 104th birthday on Wednesday (WFSB)
GLASTONBURY, CT (WFSB) -
She was born the year the Titanic sank and Fenway Park opened, and on Wednesday Margaret Smith celebrated her 104th birthday.
Along with some Bingo, Smith enjoyed a special party at the retirement home in Glastonbury where she lives.
After being serenaded with "Happy Birthday" wishes, she had some well-deserved cake and enjoyed flowers and gifts. She said the party was quite the surprise.
"They usually say that women blabber right, but I never heard a word about this thing. Nobody ever said 'oh you're going to get a surprise' or something. They were quiet. But I didn't think they were going to go this far," Smith said.
As for what keeps her going, her advice is simple—just keep breathing and never grow up.
Copyright 2016 WFSB (Meredith Corporation). All rights reserved.