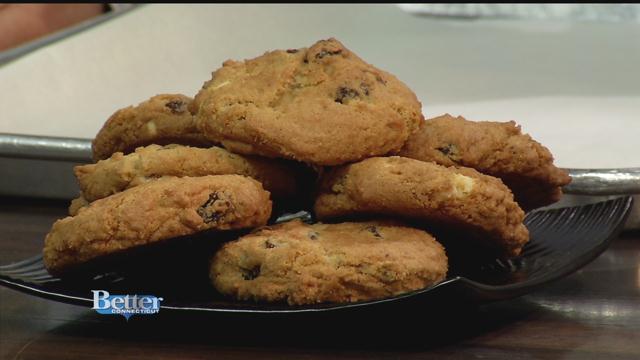 Rachel Tedeschi of Rachel's cookies gives us her secret recipe for the prefect Valentine's day cookie! It's inspired by the famous chocolate covered strawberry. To order cookies from Rachel, visit her website!
White Chocolate Covered Strawberry Cookies
2 Sticks butter
¼ cup sugar
¼ cup Turbinado sugar
1 ¾ cup light brown sugar
2 eggs
2 tsp pure vanilla extract
3 ½ cup all-purpose flour
1 ½ tsp baking soda
¾ tsp salt
6 ounces white chocolate chips
12 ounces dried strawberries, coarsely chopped
Instructions:
Cream butter and the sugars until very light and fluffy. Continue mixing while adding eggs one at a time. Add the vanilla. Combine the flour, baking soda and salt in a small bowl and then add to butter mixture and mix until just combined. Add dried strawberries and white chips until combined. Drop by spoonful on a parchment lined baking sheet. Bake at 350 for 12-13 minutes. Yields @30 2 ounce cookies.