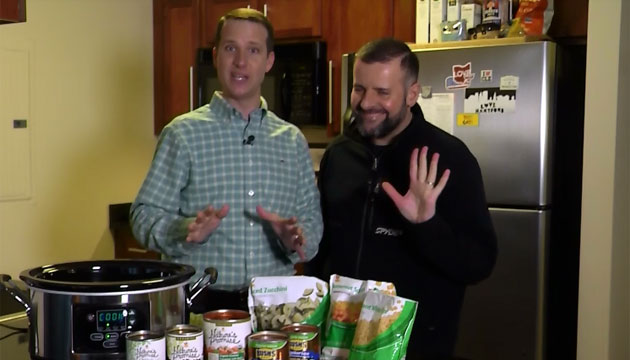 Mark Zinni and his husband Garith show us his crockpot vegetarian chili
HARTFORD, CT (WFSB) -
Mark Zinni shares the recipe to his crockpot vegetarian chili. I've dumbed down this recipe over the years but I love it, it's easy and delicious! Here's how to make it:
INGREDIENTS:
2 cans (15 ounce) undrained black beans
2 cans (16 ounce) undrained vegetarian baked beans
1 can (28 ounce) crushed tomatoes
1 bag frozen corn
1/2 bag frozen green peppers/onions
1/2 bag frozen zucchini
1/2 bag frozen squash
5-6 celery hearts, chopped
2 fresh jalapeno peppers, chopped
2 big tablespoons minced garlic
1 small can (4 ounce) diced green chilies
2-3 tbsp. Chili Powder
1 tbsp. Cumin
1 tbsp. Dried Parsley
1 tbsp. Dried Oregano
1 tbsp. Dried Basil
1 tbsp. Dried Cilantro (optional)
INSTRUCTIONS
Turn crock pot on low – add black beans –veggie baked beans –crushed tomatoes –frozen corn –peppers/onions –frozen zucchini –frozen squash –celery - add to the mix – both jalapeno peppers– garlic, and chilies
Once all those ingredients are stuffed in your crock pot, stir it up!
Now we'll add the seasonings and for the record, I use different amounts all the time so this is just a guide – use what you like! I start with at least three tablespoons of chili powder (less if you don't want too much heat) – followed by a tablespoon EACH of the cumin, parsley, oregano, basil and cilantro
I usually make it before heading to work so it can simmer in the crock pot all day. But (and this is important!) I usually turn it off and let it sit for about 45 minutes before eating, it helps it settle and thicken up. Add sour cream, shredded cheese, scallions, etc.
Copyright 2016 WFSB (Meredith Corporation). All rights reserved.