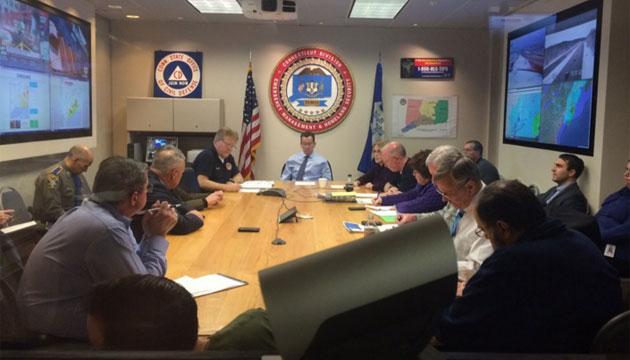 Malloy held an "unified command meeting with state officials at the state Emergency Operations Center to continue winter storm response efforts." (@GovMalloyOffice)
HARTFORD, CT (WFSB) -
Gov. Dannel P. Malloy continues to monitor effects of Winter Storm Barbara and said he remains concerned about the power outages in eastern Connecticut.
After activating the Emergency Operations Center at midnight, the governor said he continues to be in direct contact with the utility companies and receives updates.
"They are working to restore power to those who have lost it and continue to deploy crews to alleviate the situation. However, we urge patience – the situation may take time to resolve," Malloy said in a statement on Friday.
He said emergency management officials and relevant state agencies are working to "resolve the situation."
The "Severe Weather Protocol" was activated by the governor and people without power are advised to call 211 for shelter information.
Eversource said it had crews working around the clock to fix any power outages.
"We will continue to monitor the weather and the power situation closely and will provide updates as needed," Malloy said.
Copyright 2016 WFSB (Meredith Corporation). All rights reserved.