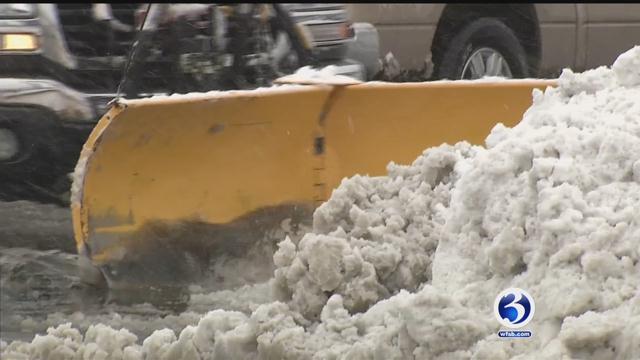 Private contractors clear snow in Middletown on Friday. (WFSB)
MIDDLETOWN, CT (WFSB) -
Friday's snowstorm was only the second significant snowfall to hit the state of Connecticut, which meant good business for contractors.
"Definitely a busy day. We definitely were not expecting what we got today. I have been out here for a couple for hours already and its just a hectic day," said Alex Sierra, of Mountain View Landscape.
Middletown was one of the cities hit hard, causing tree branches to collapse.
"I texted my wife and said if kids go out to sled today--make sure you watch them carefully and stay on top of them because with the tree branches you just never know," said Middletown Mayor Dan Drew.
College students Kenny Vaughan and Garrett Silverman work for a landscaping company and got a lot of calls asking for help Friday.
"A lot of people trying to take it on themselves and they realize its too much of a project to do. We're doing it, we're helping out but there's only so much at a time," said Silverman.
"I am going to be shoveling and he's going to be stuck in the truck plowing so I get all the heavy lifting and he gets to sit in the car," said Vaughan.
Copyright 2016 WFSB (Meredith Corporation). All rights reserved.