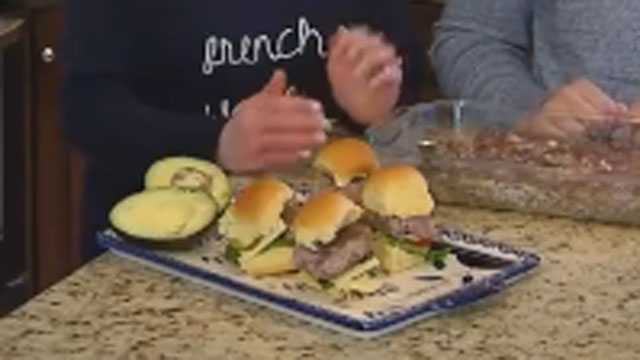 Nicole Nalepa makes her big game sliders for us with and her future husband, Andrew. (WFSB)
ROCKY HILL, CT (WFSB) -
Nicole Nalepa makes her big game sliders for us with and her future husband, Andrew! Here's the recipe:
Serving:
24 mini sliders
Ingredients:
2 tablespoon of Montreal Steak Seasoning
1/4 teaspoon cayenne pepper (optional)
3 lbs. ground beef
1 onion, chopped
1-2 eggs
24 mini hamburger rolls
Roma tomatoes (sliced)
Jar of hamburger pickles
Mini cheese slices (of your choice)
A few lettuce leaves... (Romaine or Iceberg work well)
Condiments of your choice (Ketchup, Mustard, Mayo, Tabasco)
Instructions:
1) Heat oven to 375 degrees.
2) Combine ground beef, with chopped onion, cayenne pepper (optional), and Montreal Steak seasoning. Stir in egg(s) until incorporated. Butter large lasagna dish before placing meat in it—Cook for 10-15 minutes (depends on your oven).
3) Once burgers are cooked to your liking…cut them up into 24 little squares.
4) Take each mini burger out, add to mini hamburger roll, and put slice of cheese in the middle.
5) Return sliders (bun and all) to the oven and cook 1 to 2 minutes more to melt the cheese.
6) Garnish with tomatoes, lettuce, & condiment(s) of your choice, and serve! Buon Appetit!
Copyright 2016 WFSB (Meredith Corporation). All rights reserved.