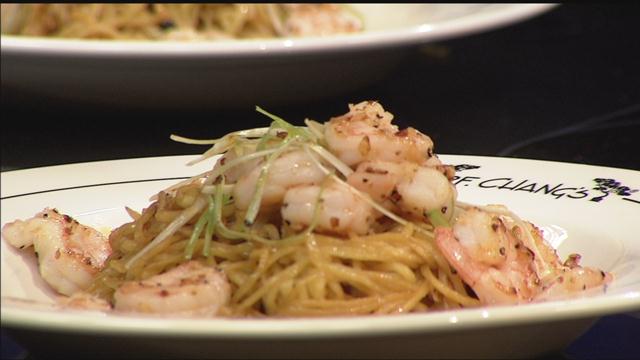 P.F. Changs made its Chinese New Year long life noodles for Eyewitness News on Sunday morning. (WFSB)
ROCKY HILL, CT (WFSB) -
P.F. Changs made its long life noodles in preparation for Chinese New Year for Eyewitness News on Sunday morning. Here's the recipe:
Ingredients:
For the noodles:
2 TBS vegetable oil
1 TBS garlic, minced
½ tsp red pepper flakes
¼ tsp Chinese fermented black beans, fine chopped
1 tsp soy sauce
10 oz. Chinese Style Egg Noodles or spaghetti, cooked
For the shrimp:
6 oz. shrimp, cleaned and peeled
½ TBS garlic
1 TBS butter
½ oz scallions, julienned
½ tsp. kosher salt
¼ tsp. black pepper
½ tsp. chili oil
Preparation:
Heat the vegetable oil in a wok or skillet over high heat.
Toss in the garlic, red pepper flakes and black beans and cook for 30 sec.,
Stirring or tossing to make sure the garlic does not burn.
Add the cooked noodles and soy sauce and toss until noodles are coated and heated through.
Set aside on a plate.
Heat the butter in the same pan, and add the garlic for 30 sec.
Add the shrimp and cook on each side for 1-2 min., until they turn pink.
Add scallions, salt, pepper, and chili oil and pour over the noodles.
For more information, www.pfchangs.com
Copyright 2016 WFSB (Meredith Corporation). All rights reserved.