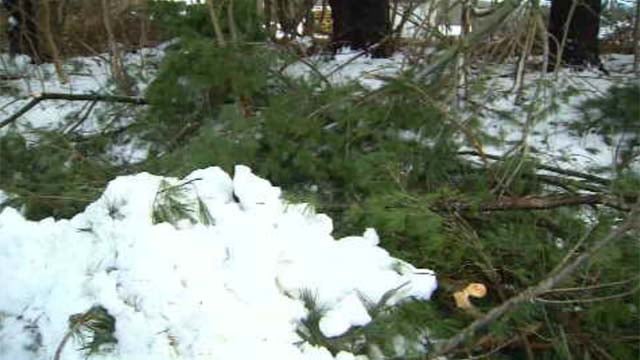 Friday's heavy wet snow stressed many trees, causing weak limbs and branches to snap off and fall. (WFSB)
NORWICH, CT (WFSB) -
Friday's heavy wet snow stressed many trees, causing weak limbs and branches to snap off and fall.
In Massachusetts, two people were killed in two separate cases by falling branches. In Connecticut, falling branches damaged vehicles.
Experts said there isn't much people can do to predict which branches will succumb to a snow load or high winds.
Tree service Technician Tim Menard, of Norwich, said it is important to regularly inspect trees for damage or potential damage. Fir trees and evergreens are susceptible to damage.
"Once the snow accumulates on the tree, because it's sticking to it because it's wet and the trees been warm, so it's not shedding it right away. It gets much heavier than the bow can withstand and it snaps it right off," Menard said.
People should always be mindful of broken branches near power lines because they will conduct electricity. Call an expert in to remove them.
Copyright 2016 WFSB (Meredith Corporation). All rights reserved.