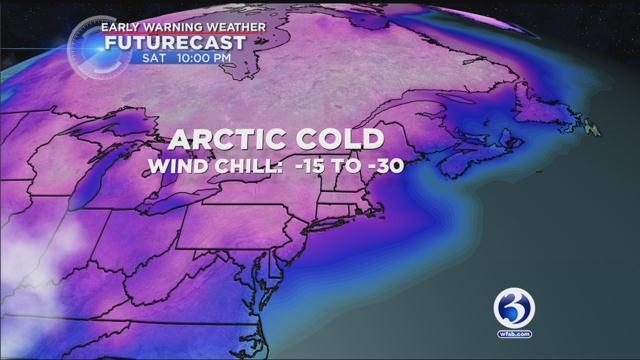 Bitter cold temperatures have arrived in CT (WFSB)
HARTFORD, CT (WFSB) -
Negative air temperatures and frigid wind chill values are forecast to blast the entire state this weekend, prompting Governor Malloy to activate the state's Severe Cold Weather Protocol through Monday.
The Early Warning Weather Team is forecasting air temperatures below zero, with nighttime lows between -5 and -20. With the wind chill value added in, it could feel like -15 to -30 outside.
Those temperatures are dangerous for anyone outdoors, especially the homeless.
Several warm shelters are open across the state and anyone can dial 2-1-1 to find available shelters or warming centers, according to the Governor's office.
To prepare residents, the Governor's office offered some tips on ways to keep warm and protect your home:
Keep all pets inside
Never use your oven for heat or bring grills inside
Avoid using electric space heaters near curtains or other flammable materials and turn them off before going to bed
Use candles only as a last resort and never leave them unattended
Keep dryer vents clear of snow and ice
Leave cabinet doors open to allow heat to reach the pipes
Leave faucets open with a slight drip to prevent pipes from freezing
If pipes do freeze, use a hair dryer or rags soaked in hot water to thaw lines. Do NOT use an open flame.
Protect your water meter from icy drafts and freezing temperatures. Most frozen meters are caused by drafts from an open basement door or window.
Double check your property for drafts as the cold weather sets in. Seal openings in the basement foundation wall where cold air may enter. Stuff holes with insulation and fix broken window panes. A tiny opening may cause exposed pipe or the meter to freeze.
Copyright 2016 WFSB (Meredith Corporation). All rights reserved