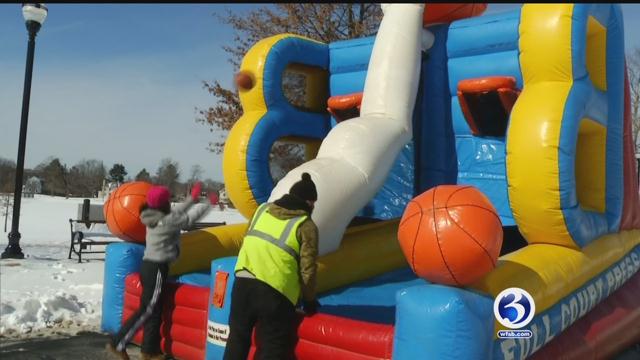 With no snow, children enjoy Winterfest 2016 in New Britain. (WFSB)
NEW BRITAIN, CT (WFSB) -
Winterfest 2016 in New Britain was open on Friday for any parents looking for something to do with their children celebrating a day off from school.
The New Britain Public Schools had Friday off for the Presidents' Day weekend, so many families were spending their day at Walnut Hill Park for Winterfest 2016.
It is cold on Friday, but Winterfest is hot with fun.
The event features more than 20 attractions, carnival games, trampolines and lots of stuff to eat. There is an ice sculpture.
It is $5 to get a wristband for Winterfest. The event goes on until 3 p.m.
The past three years in a row this event was canceled because of bad snow.
Copyright 2016 WFSB (Meredith Corporation). All rights reserved.