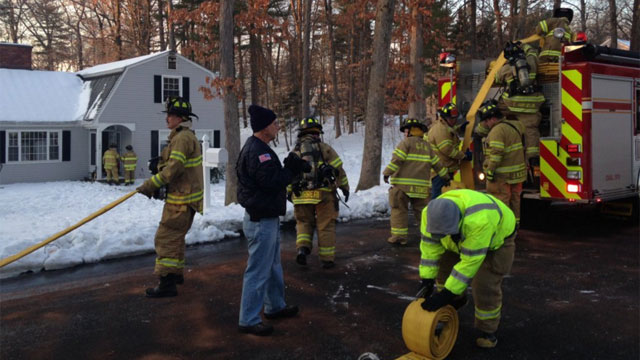 House fire reported on Surrey Lane in Glastonbury. (WFSB)
GLASTONBURY, CT (WFSB) -
An early morning fire caused minimal damage to a home in Glastonbury, but firefighters still had to battle the elements along with the flames.
Firefighters were called to a home on Surrey Lane around 6:30 a.m. Glastonbury Fire Chief Michael Thurz said crews were called after someone reported seeing flames coming from a home in the area.
Thurz said the homeowner also reported the fire.
Upon arrival, firefighters were quickly able to knock down the fire.
"Especially this community where half of the community relies on tankers," Thurz said. "This one has a fire hydrant right in front so yes it was very convenient."
There were no reported injuries, authorities said.
Thurz said with these brutal temperatures, firefighters were extremely careful of slippery areas and of course staying as warm as possible.
The cause of the fire is under investigation.
Copyright 2016 WFSB (Meredith Corporation). All rights reserved.