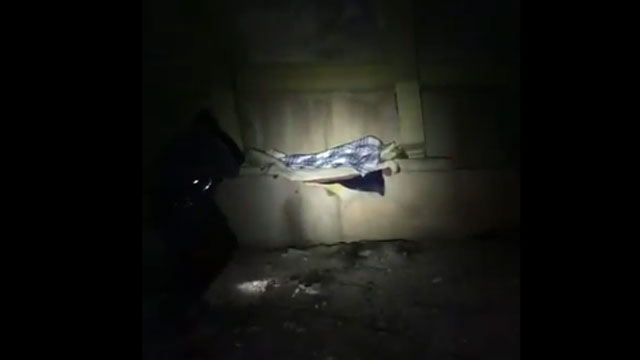 Officers locate homeless in Hartford. (@LtFoley)
HARTFORD, CT (WFSB) -
Hartford police officers spent Friday night searching for the homeless in the capital city and getting them to places where they could stay warm.
The Hartford police Department posted videos of officers finding those in need under the Interstate 84 bridge near Park Street. The officers would approach those in need and explain there was a warm place to stay.
There were several warming centers setup in the capital city this weekend to help those in need. Police said the officers not only informed them about the shelters, but offered them a ride.
The city was able to secure 125 extra beds for those in need. The McKinney Shelter on Huyshope Avenue had 88 beds with 13 additional cots, Immaculate Conception on Park Street had 75 beds with 75 additional cots brought in and Open Hearth on Sheldon Street had 25 beds total
During the daytime hours on Saturday and Sunday, the Salvation Army Recreation Center, which was located at 100 Nelson St. acted as a warming center for those in need.
Copyright 2016 WFSB (Meredith Corporation). All rights reserved.