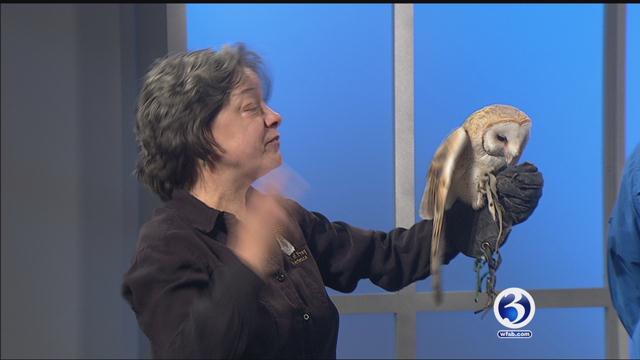 Oliver the owl shows off his skills. (WFSB)
HARTFORD, CT (WFSB) -
The state's largest fishing and hunting takes over the capital city this weekend.
Fine feathered friends will be at the Connecticut Convention Center for the Northeast Fishing and Hunting Show on Saturday and Sunday.
Lorrie Shumacher with Talons! Birds of Prey and lure designer Al Gag stopped by WFSB studios on Saturday morning. WFSB Meteorologist Mike Cameron and Anchor Kim Lucey were treated to an owl demonstration.
The event will showcase the importance of the owls.
"They are best friends for mouse control," Shumacher said.
More than 50 hours of seminars from fishing and hunting experts.
"Countless number of people here," Gag said.
First 200 veterans that come to show enter for free. Each needs a valid military ID.
For more information, click here.
Copyright 2016 WFSB (Meredith Corporation). All rights reserved.