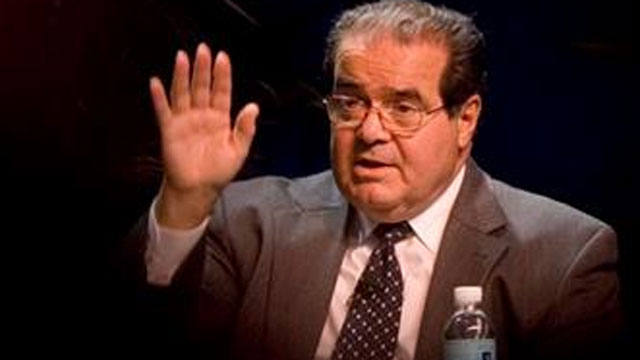 (AP Photo/Chris Greenberg, File). FILE - In this Oct., 15, 2006 file photo, Supreme Court Associate Justice Antonin Scalia speaks at the ACLU Membership Conference in Washington.
HARTFORD, CT (WFSB) -
Connecticut Governor Dannel Malloy announced that all flags will be lowered to half-staff following the death of Supreme Court Justice Antonin Scalia.
"Justice Scalia served the Court - and the nation - honorably. While we may have disagreed politically, what is unquestionable was Justice Scalia's dedication to America. Our thoughts and prayers are with his family," Governor Malloy said.
U.S. Senator Richard Blumenthal issued this statement.
"I am saddened by the death of Justice Antonin Scalia. The son of an immigrant, dedicated public servant, acerbic wit, and gifted writer and orator, Justice Scalia lived a uniquely-American life. I respected his intellect and patriotism. My thoughts are with his wife Maureen and their entire family."
"My hope is that the President will promptly nominate someone with strong intellect and integrity who can win bipartisan support. I will work vigorously as a member of the Judiciary Committee to achieve confirmation," he said in a press statement.
Scalia died Saturday at the age of 79. He was on a hunting trip in Texas.
Blumenthal is a member of the Senate Judiciary Committee.
Copyright 2016 WFSB (Meredith Corporation). All rights reserved.