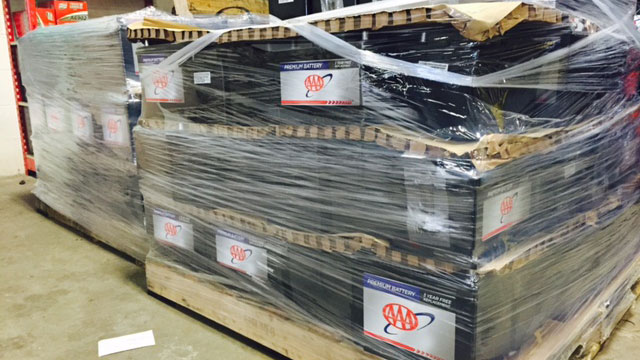 The bitter cold caused AAA to have more batteries were delivered to their West Hartford location on Friday. (AAA)
HARTFORD, CT (WFSB) -
AAA crews help thousands after bitter cold affects vehicles all weekend long.
There were more than 40,000 calls in the Greater Hartford Area this weekend for service. As of 4 p.m. on Monday, there were more than 2,000 calls for stranded drivers.
"There's been no letup in the number of calls pouring in. We continue to have all hands on deck," AAA spokesperson Amy Parmenter said in a statement on Monday.
Parmenter said most of the calls were dead batteries this weekend and on Monday.
Because of the dangerously cold weekend, AAA "doubled the number of batteries on hand," Parmenter said.
With all the calls this weekend, AAA said it already replenished its supply early Monday morning.
"Mother Nature showed no love on Valentines. AAA got four times its typical call volume from motorists left stranded by the cold," Parmenter said.
For more on AAA, click here.
Copyright 2016 WFSB (Meredith Corporation). All rights reserved.