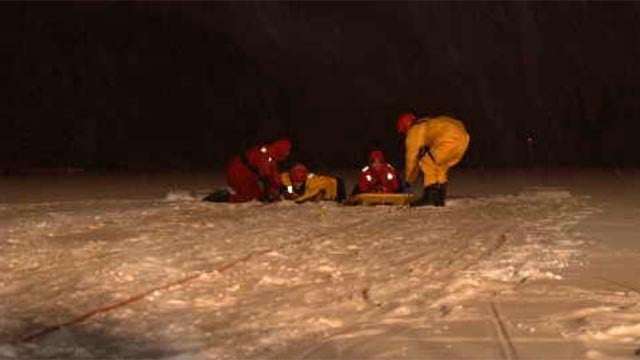 On Monday evening, about 20 firefighters from departments in Berlin and Kensington participated in cold water rescue training. (WFSB)
BERLIN, CT (WFSB) -
As the storm continues to hit the entire state, the road conditions deteriorated as Monday evening went on.
The Department of Transportation warned on Monday afternoon that their pre-treatment of the roads doesn't work well if the temperature is under 25 degrees.
On Monday evening, about 20 firefighters from departments in Berlin and Kensington participated in cold water rescue training.
Crews were out in the proper elements at Paper Goods Pond, going through the yearly training routine of an ice water rescue.
Captain Jeff Pajor, of the Kensington Fire Department, said for most of the crews it was a refresher training, but there are new members who benefit from it.
"The way we do it may not be the way they do it in California, but we have a certain way. Certain steps," Pajor said.
The group went through a solid two hours of the drills.
Pajor said it's beneficial to refresh the skills because sometimes they have to actually apply them.
Copyright 2016 WFSB (Meredith Corporation). All rights reserved.