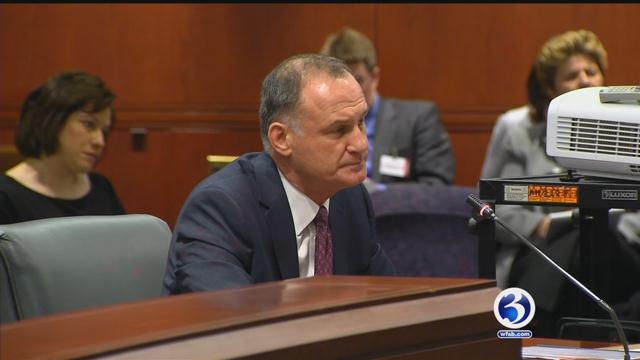 Interim DMV Commissioner Dan Murphy faces General Assembly's Transportation Committee on Friday. (WFSB)
WETHERSFIELD, CT (WFSB) -
The interim commissioner of Connecticut's Department of Motor Vehicles says the private vendor that designed the agency's computer upgrade is committed to making sure all the bugs in the system are fixed.
Dennis Murphy was recently appointed by Gov. Dannel P. Malloy to temporarily run the agency until a permanent commissioner is named. He told the General Assembly's Transportation Committee on Friday that 3M has "committed to us very directly, from a high level, they're going to make this work."
The agency has been plagued by long wait times, erroneous vehicle registration cancelations and other problems since the upgrade was launched last summer.
Some legislators say they've received numerous complaints from constituents and question whether 3M should be replaced.
Friday marked Murphy's fourth day on the job.
Copyright 2016 The Associated Press. All rights reserved. This material may not be published, broadcast, rewritten or redistributed.