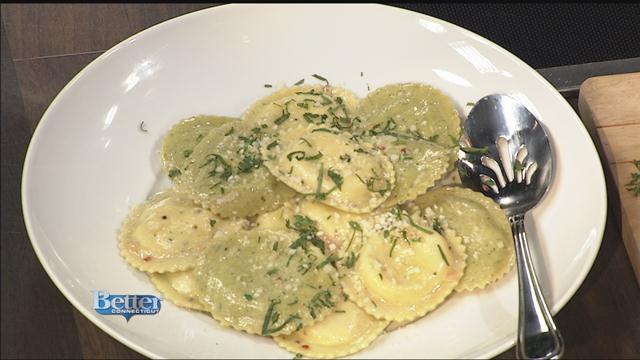 We've got the recipe for Shrimp Scampi Ravioli with Beurre Blanc. (WFSB)
SOUTH WINDSOR, CT (WFSB) -
Here's the recipe for Shrimp Scampi Ravioli with Beurre Blanc
Serving Size: 4 people
Ingredients:
•1 x 16 oz. Package of Cucina di Carla's Shrimp Scampi Ravioli
•1 tsp. chopped Garlic
•¼ cup minced Shallot
•Pinch of Red Pepper Flakes
•1 Cup of White Wine
•1 stick of Butter Dish
Execution:
1.Bring 6 quarts of water to a boil.
2.Simmer Ravioli in boiling water for 2-3 minutes until filling is hot and pasta is cooked.
3.In a pot over low heat sweat 1 tsp chopped Garlic, ¼ Cup Minced Shallot and a pinch of Red Pepper Flakes.
4.Increase heat to medium-high and add 1 Cup of White Wine and reduce until wine is almost evaporated.
5.Whisk in 1 stick of Butter, small pieces at a time.
6.When Ravioli are heated per directions, toss with your Butter Sauce and enjoy.