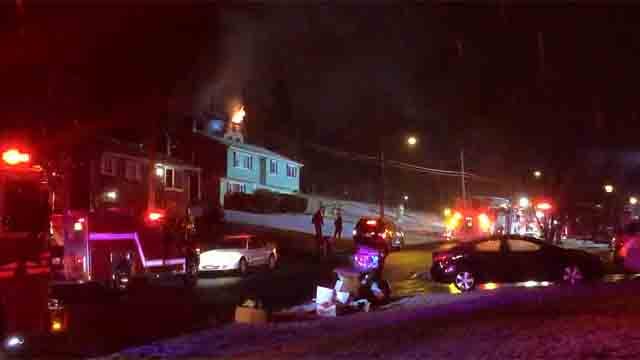 A fire broke out at a home on North Elm Street in Manchester on Tuesday evening (iwitness Gregg Jones Henry)
MANCHESTER, CT (WFSB) -
Crews battled a fire that broke out at a home on North Elm Street in Manchester on Tuesday evening.
The fire was reported in the chimney of the home.
When crews arrived, they said they saw fire and smoke on the first and second floors. That's when they called in help from surrounding towns, including Hartford.
"The fire is being hampered by the elevation of the house," said Manchester Fire Chief Don Moore.
Because the home is on a hill, and next to electrical lines, firefighters couldn't use a ladder truck to fight the flames from the air.
Instead, they had to fight it from the ground using hoses.
Two people were home at the time and made it out safely. One person was treated at the scene for smoke inhalation and is expected to recover.
"There are some pets in the house. We don't know their fate yet," Moore added.
It is unclear how the fire started.
The fire likely destroyed the home.
Copyright 2016 WFSB (Meredith Corporation). All rights reserved.