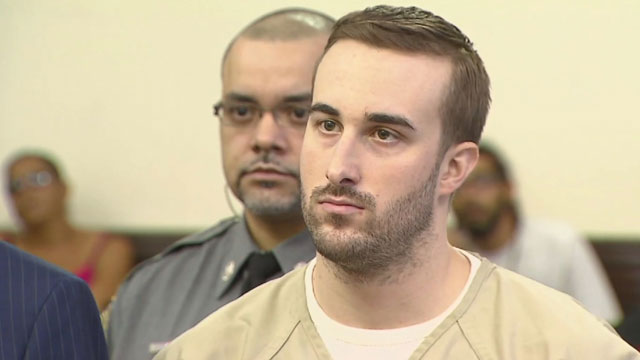 Kyle Navin during a previous court appearance. (WFSB file photo)
BRIDGEPORT, CT (WFSB) -
A man accused of murdering his parents and hiding the bodies in a vacant home is due back in court on Wednesday.
Kyle Navin waived a probably cause hearing, pleaded not guilty to the charges and asked for a jury trial during his court appearance last month.
Prosecutors said Kyle Navin killed Jeffrey and Jeanette Navin of Easton over the summer. Their bodies were found in a home in Weston.
Court documents said he had help from his girlfriend, Jennifer Valiante, after he learned that his parents planned to sell the family refuse business and cut him out of their will.
Jeffrey and Jeanette Navin went missing on Aug. 4, 2015. The couple's vehicle was found parked in a commuter lot off of the Merritt Parkway in Westport a few weeks later.
In the fall, state and local police were led to the vacant home in Weston where the remains of the couple were discovered.
Kyle Navin is due in Bridgeport Superior Court.
Copyright 2016 WFSB (Meredith Corporation). All rights reserved.