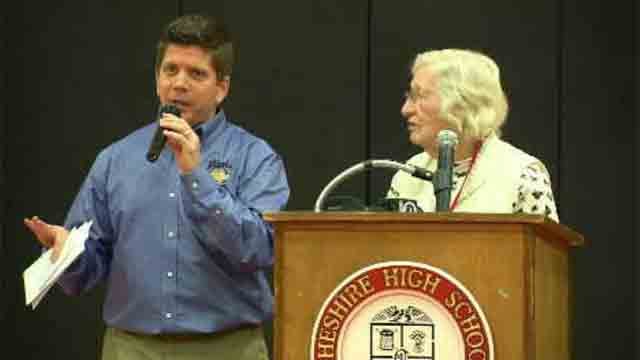 Cheshire High School honors longtime staff member (WFSB)
CHESHIRE, CT (WFSB) -
The students at Cheshire High School got at gift and learned the power of paying it forward on Wednesday.
Cheshire High School students went to a special assembly first thing on Wednesday morning.
As part of national Chevrolet campaign, Richard Chevrolet went to the school to present a check for $4,000 to refurbish and landscape the student courtyard and help fund this year's all-night graduation party.
In addition, the students raised money in support of a longtime member of the school's administrative staff Millie Kennedy, who recently celebrated her 94th birthday.
Kennedy has been working at Cheshire High School for almost 30 years and is dearly loved by the students. She was completely surprised and overwhelmed by the gesture.
"I never expected anything like this I've never been in a situation like this," Kennedy said. "I'm a very quiet person, and I like to stay by myself."
Kennedy began working at Cheshire High School in 1987. She's lived in the town for 84 years.
Copyright 2016 WFSB (Meredith Corporation). All rights reserved.