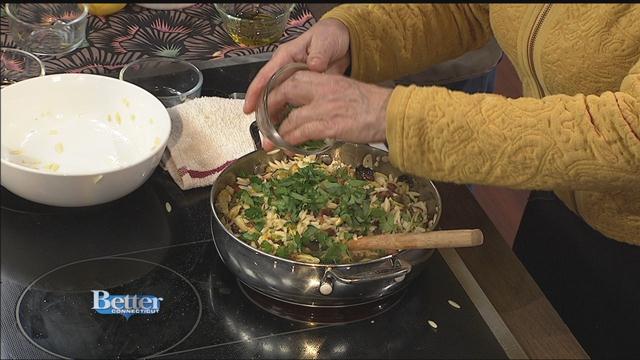 Carole Peck is the owner of The Good News Café in Woodbury. She's letting us in on one of her recipes for a very different pasta dish. It's called Brussels Sprouts Bacon & Orzo Pasta! You'll find the recipe below. You can visit The Good News Café at 694 Main St S in Woodbury or online.
Brussels Sprouts Bacon & Orzo Pasta
4 Servings
½ lb. Orzo Pasta (preferably Greek orzo)
Salt for pasta water
3T vegetable oil
2C reserved pasta water
¾ lb. slab bacon / cubed
15 brussels sprouts, cut in ¼ & roasted
3 cloves garlic, peeled & sliced thin
12 seedless grapes
1 lemon, zest & juice
6 sprigs parsley, coarsely chopped
Parmesan to shave
Cook orzo in a pot of boiling salted water till al dente. Save 2C of cooking water then drain orzo do not wash, put in a mixing bowl and toss with the oil, set aside.

In a large sauté pan over high heat add the bacon when sizzling add brussel sprouts garlic

&

grapes, let cook about 2 mins.

Add lemon zest, then the orzo, combine well.

If necessary add some pasta water.

Toss in parsley at the end.

Serve with shaved parmesan cheese.