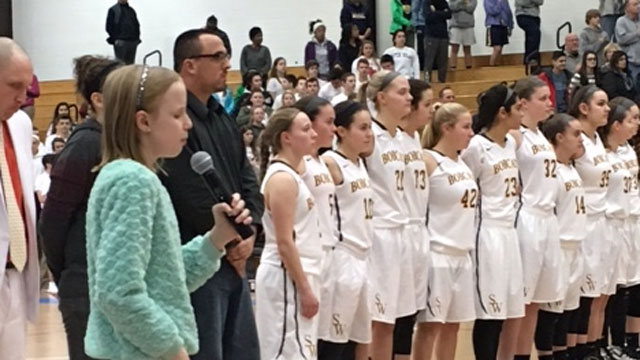 Glastonbury student Paige Drury sang before the Central Connecticut Conference girls' basketball championship game between E.O. Smith and South Windsor. (WFSB)
GLASTONBURY, CT (WFSB) -
A blind seventh grader has been singing at Glastonbury High School basketball games and this week, she got the chance to perform the National Anthem for a larger crowd.
Glastonbury student Paige Drury has been blind since birth due to a rare genetic disorder.
"I felt like I could do anything at that moment because it felt awesome," Drury said.
But, Paige loves music and she has been regularly singing the National Anthem before basketball games at Glastonbury High School this season.
"I feel like I've done part of my duty that I've made people feel something," Drury said.
On Wednesday night, Paige sang before the Central Connecticut Conference girls' basketball championship game between E.O. Smith and South Windsor. The estimated attendance at the game was around 1,000 people.
Drury aspires to be a professional singer and she's well on her way. She is singing for the Hartford Wolf Pack in March.
"I feel really confident that it's not going to end here," Drury said.
The performance moved even a local sportscaster.
Copyright 2016 WFSB (Meredith Corporation). All rights reserved.