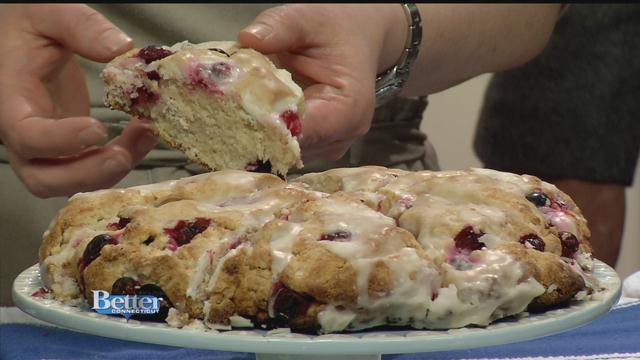 Today we're talking breakfast with Senior Lifestyle Editor at Yankee Magazine, Amy Traverso. She's making us Whole Wheat Maple –Cranberry Scones. It's also super easy! For more recipes, check out Yankee Magazine online.
Whole Wheat Maple-Cranberry Scones
1 1/4 cups whole-wheat flour

1 1/4 cups all-purpose flour

1 tablespoon baking powder

1/2 teaspoon table salt

1/2 cup (1 stick) cold unsalted butter, cut into small cubes

1/2 cup maple syrup

1/3–1/2 cup whole or 2% milk

1 cup frozen cranberries

Maple Glaze
Instructions
Preheat your oven to 425° and set a rack to the middle position. In a large bowl, whisk together the flours, baking powder, and salt until combined. Using a pastry cutter or fork, work in the butter until it forms pea-sized bits; then use your fingers to rub the butter into the flour, creating a blend of powder, flakes, and some remaining small lumps of butter. Pour in the syrup and 1/3 cup of milk, and stir well with a fork. If needed, add another tablespoon or two of milk to form a dough. Use a spatula to fold in the cranberries.

Turn the dough out onto a baking sheet lined with parchment paper, and, with well-floured hands, press into an 8-inch circle. Cut into 8 equal wedges (no need to separate them). Bake until puffed and golden brown on top, 20 to 25 minutes.
For the Maple Glaze:
3/4 cup powdered sugar

1 1/2 tablespoons water

1 tablespoon maple syrup
Instructions
Meanwhile, in a small bowl, make the glaze: Whisk together the powdered sugar, water, and maple syrup until smooth.