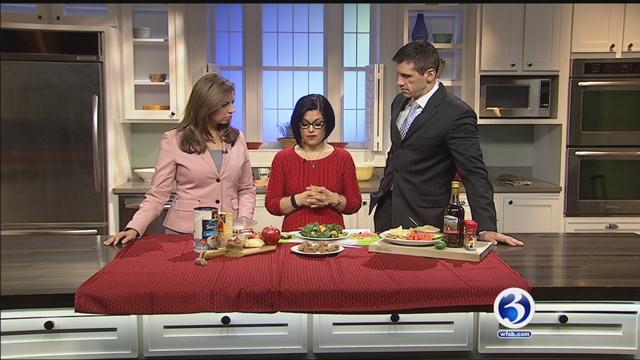 Eyewitness News learned how to make heart healthy items on Sunday morning (WFSB)
HARTFORD, CT (WFSB) -
On Sunday morning, Eyewitness News learned how to make an avocado-bean guacamole.
Ingredients:
1⁄2 cup uncooked red onion, minced
3 Tbsp fresh lime juice
15 oz canned white beans, rinsed and drained
1 avocado, peeled and chopped
1⁄4 cup plum tomatoes, finely diced
2 Tbsp cilantro
1 clove garlic, minced
1⁄2 tsp table salt
1⁄2 tsp hot pepper sauce
1⁄4 tsp ground cumin
Instructions:
1) In a small bowl, combine onion and lime juice; let stand 15 minutes.
2) In a food processor, puree beans and avocado. Add the tomato, cilantro, garlic, salt, pepper sauce, cumin and the onion mixture, pulse until blended. Transfer to a serving dish and refrigerate, covered, until ready to serve.
Serving size: 1/3 c
Copyright 2016 WFSB (Meredith Corporation). All rights reserved.