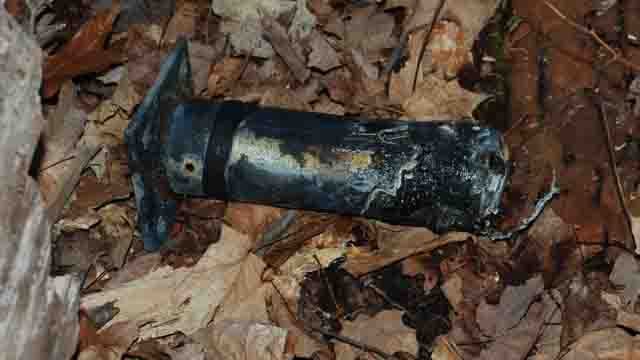 (Southington police photo)
SOUTHINGTON, CT (WFSB) -
A hiker discovered a pipe bomb in some woods on Sunday afternoon.
Southington police said the hiker found the item near 495 Shuttle Meadow Rd. in the Crescent Lake area around 3:30 p.m.
The hiker told police that he found a suspicious black object which resembled a pipe bomb. The object was about a 30 minute walk into the woods off a trial.
The item was described as an 8 inch black metal tube with a small hole drilled in its base. One end was covered in what looked like duct tape.
Southington and state police responded to the scene.
The device was safely removed.
They said it looked to have already been detonated and was likely in the woods for up to a year.
Anyone with information about how it got there is asked to contact the Southington Police Department at 860-378-1654.
Police sought to remind people that if a suspicious object or package is found, don't touch it. That advised dialing 911.
Copyright 2016 WFSB (Meredith Corporation). All rights reserved.