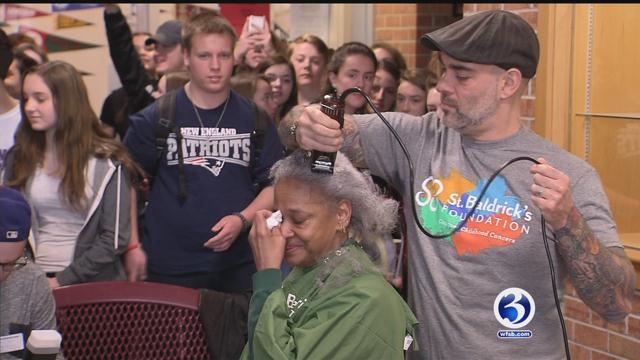 Dozens shave heads for childhood cancer research. (WFSB)
REDDING, CT (WFSB) -
Several police officers in Redding and Easton shaved their heads on Monday to help children battling cancer.
Joel Barlow High School has been participating in St. Baldrick's 'Brave the Shave' for five years. On Monday morning, the event brought out dozens of supporters, including the Redding police.
Redding Police Chief Douglas Fuchs said the department wanted to show its support for a fellow officer's 8-year-old son, who is battling cancer.
Eyewitness News spoke to Fuchs just before he went under the razor.
"You know what, it's going to grow back. And for us to do this is a token, a gesture. It's a gesture of support, but it's for the kids, who go through this," Fuchs said.
The Redding Police Department raised $10,000 in a week with those donations going towards children's cancer research.
"We try very hard to be there for others at their time of need," Fuchs said. "That's pretty much what law enforcement does throughout the country, and this is about being there for one of our own."
Copyright 2016 WFSB (Meredith Corporation). All rights reserved.