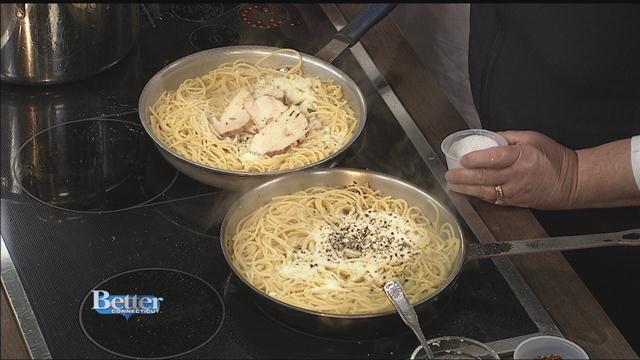 Our friends from The Mulberry Street Restaurant in Manchester are with us and they're making a delicious and easy pasta dish you'll want to make tonight! You can try some of the fabulous food at 981 Main Street in Manchester, also be sure to check out their website.
Pantry pasta
Ingredients
1lb. spaghetti or linguine

1/4 extra virgin olive oil

3 cloves of garlic minced

pinch if red pepper flakes

zest of 1 lemon

juice of 1 lemon

pasta water

kosher salt

fresh ground pepper

1/2 cup romano cheese grated

3/4 cup chopped parsley
Directions
Cook pasta save pasta water.
In a large saute pan heat oil. Pull off heat and add a pinch of red pepper flakes and garlic. Garlic will brown quickly add lemon zest and juice. Add 1/2 c pasta water. Add pasta to pan and stir to combine. Heat through. Salt and pepper to taste, add romano 1/4 cup at a time. Add parsley. If to dry add 1/4 more pasta water. Check for seasoning. Serve with additional romano cheese.
You can add Grilled chicken, cooked broccoli, grilled vegetables, sausage.