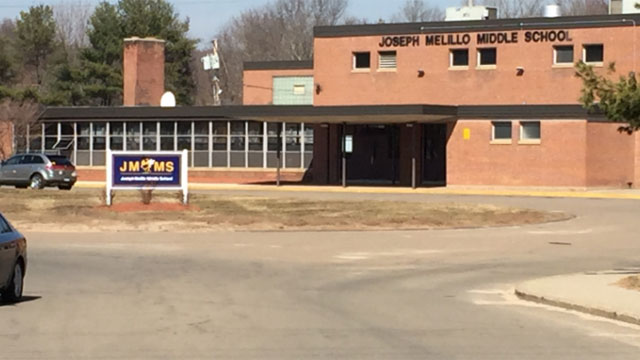 Police are investigating an incident of "inappropriate touching" at Joseph Melillo Middle School. (WFSB)
EAST HAVEN, CT (WFSB) -
Police are investigating an incident of "inappropriate touching" involving a teacher at a middle school in East Haven.
The investigation at Joseph Melillo Middle School started on March 4.
However, police have released few details about the incident.
"Due to the nature of the incident and the fact that it is an ongoing investigation, no additional details can be released at this time," police said in a statement on Wednesday.
A letter to the parents said that teacher was placed administrative leave. However, the letter stated nothing has been substantiated.
East Haven Superintendent Dr. Portia S. Bonner said she had no comment for Eyewitness News.
"This is an ongoing investigation. This is a confidential matter between school personnel and students," Bonner said.
"You send your kid to school and hope that they're safe and that somebody is not going to hurt them, they're supposed to be their caregivers," said Annette Carleton, of East Haven.
Copyright 2016 WFSB (Meredith Corporation). All rights reserved.