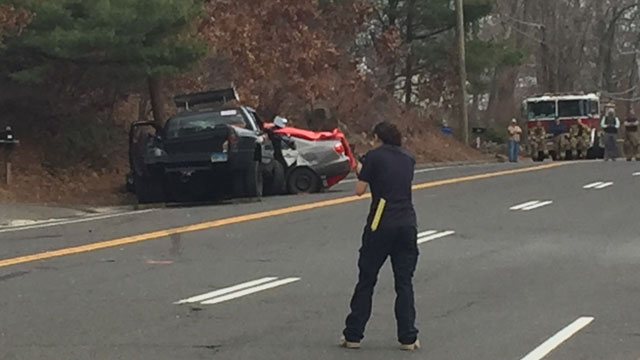 One person is dead after a crash on Route 69 on Thursday afternoon. (WFSB)
PROSPECT, CT (WFSB) -
A Prospect man was killed in a crash on Route 69 on the Waterbury/Prospect line on Thursday afternoon.
The crash was reported just before 2:30 p.m. on Thursday, and forced police to shut down the road.
Police said a Toyota Camry, driven by 56-year-old Brian Cavanaugh, was pulling out of Terry Road when it was struck by a Dodge Ram pickup truck.
The truck was driven by 20-year-old Eric Marshall, of Waterbury.
Police said it appears the Camry had stopped at the stop bar on Terry Road but pulled out into the path of the truck. The truck swerved to avoid a collision but was unable to do so.
Police said it appears at this time that none of those involved in the crash were under the influence. There were two passengers in the truck at the time who, along with the driver, sustained minor injuries.
Copyright 2016 WFSB (Meredith Corporation). All rights reserved.