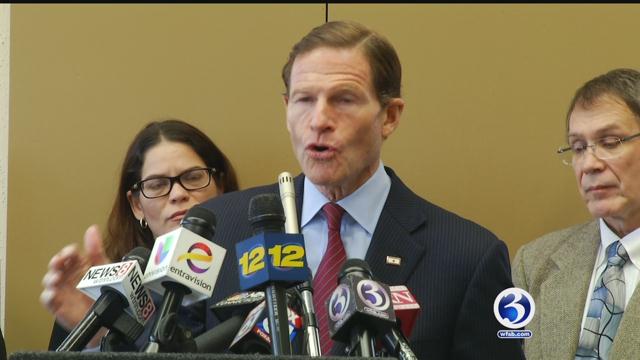 HARTFORD, CT (WFSB) -
U.S. Senator Richard Blumenthal applauded the actions of CVS's new program to reduce smoking among young people.
CVS announced on Thursday that the major pharmaceutical chain is donating $50 million over the next five years to programs aimed at reducing smoking among young people.
The company's campaign called "Be the First," will work with groups leading anti-tobacco programs, as well as youth organizations. The campaign will support education, advocacy work and healthy behavior programs to help young people kick the habit, or avoid lighting up altogether.
Blumenthal was supportive of CVS's decision 18 months ago to pull the sale of cigarettes and tobacco products from its shelves in an effort to promote national health and wellness.
"CVS rightly recognized the clear contradiction between keeping Americans healthy and selling tobacco, the country's leading killer," Blumenthal said in a statement on Thursday.
Blumenthal said he urges other major pharmaceutical chains to follow CVS's lead in eliminating tobacco products from stores.
In 2014, Blumenthal said that "good health and tobacco simply can't be sold in the same store," and called for companies to stop profiting from death and addiction.
Copyright 2016 WFSB (Meredith Corporation). All rights reserved.