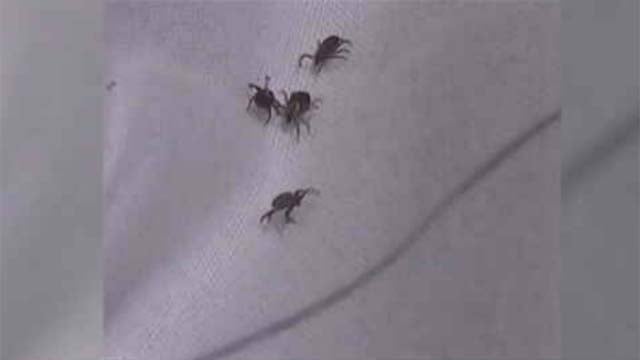 Doctors issue warning about new tick virus (WFSB)
HARTFORD, CT (WFSB) -
Environmental science experts are blaming the wet winter and unusually warm spring season for the early rise in mosquitoes and ticks. Residents are urged to cover up your legs and arms with light colored clothes when hiking, check pets when they come inside for ticks and use repellents containing "DEET."
By taking these preventive measures, residents can lessen the chance of contracting Lyme disease from deer tick bites.
"We had about 32% of the ticks submitted to the Connecticut Agricultural Experiment Station testing last year tested positive for the Lyme Disease," said the Chief Scientist at the Connecticut Agricultural Experiment Station, Kirby Stafford III.
Stafford said that the larger deer ticks are most common during the spring months, while the smaller "nymph sized" deer ticks will appear during the summer months.
mosquitoes are also prevalent due to the warmer weather. Experts are urging residents to remove any standing water – even it's a small amount.
"Anywhere there is just a puddle or a container in your backyard that has standing water in it that's a place a mosquito could lay its eggs and that's where the larvae will hatch and that's where mosquito breeding occurs," said Lisa Marie McNulty, an environmental science teacher at the Marine Science Magnet School in Groton, CT.
Copyright 2016 WFSB (Meredith Corporation). All rights reserved.