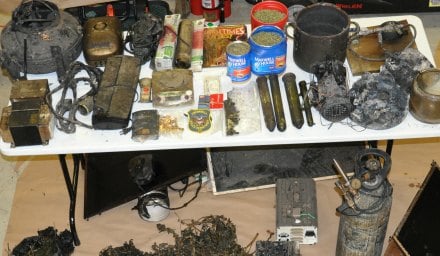 Police arrest couple with marijuana grow operation. (Cromwell Police Department)
HARTFORD, CT (WFSB) -
The man and woman were arrested after a fire in February at their Cromwell home led to the discovery of 100 marijuana plants.
Police arrested 45-year-old Giovanni Imme and 43-year-old Linda Imme on Thursday evening.
Their arrests comes after a fire at their home on Robin Lane on Feb. 13. After the fire was knocked down, police located 100 marijuana plants in various stages of development in the basement.
Police seized about 6 pounds of marijuana with a total street value of $21,000.
Giovanni and Linda Imme were charged them with multiple counts of the illegal possession of marijuana, possession with intent to sell and operation of a drug factory.
They were also charged with the illegal possession of numerous growing supplies after many materials and scales were found in the home.
The Imme's surrendered themselves to the Cromwell Police Department on Friday.
Giovanni Imme and Linda Imme were released on $10,000 bonds. They are expected to appear in court on March 22.
Copyright 2016 WFSB (Meredith Corporation). All rights reserved.