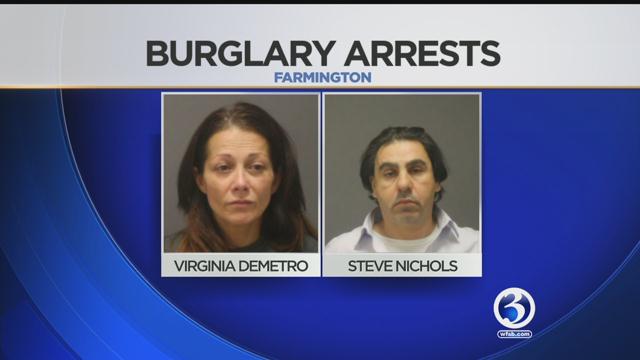 Virginia Demetro and Steve Nichols were arrested for burglaries in two towns. (Farmington Police Department)
FARMINGTON, CT (WFSB) -
Police in Farmington arrested two Florida residents in connection to a string of burglaries.
Police said 44-year-old Virginia Demetro and 47-year-old Steve Nichols, both of Fort Lauderdale, Fla. stole cash, credit cards and jewelry from at least two people in two different towns.
Police said the pair would target older people and tell them they were there to fix a roof problem. Then once that person let them inside their home, police said Nichols and Demetro would steal items.
In one case, the two were found in possession of $340, which police said they stole from a woman's purse.
Nichols and Demetro were charged with second-degree burglary, second-degree conspiracy to commit burglary, sixth-degree larceny, conspiracy to commit larceny, second-degree criminal attempt larceny and second-degree conspiracy to commit larceny.
Both are being held on a $175,000 bond. They will be arraigned at Hartford Superior Court on Friday.
Anyone with any information about similar scams or burglaries is asked to call the Farmington Police Department at 860-675-2400 or call the FPD tip-line at 860-675-2483.
Copyright 2016 WFSB (Meredith Corporation). All rights reserved.