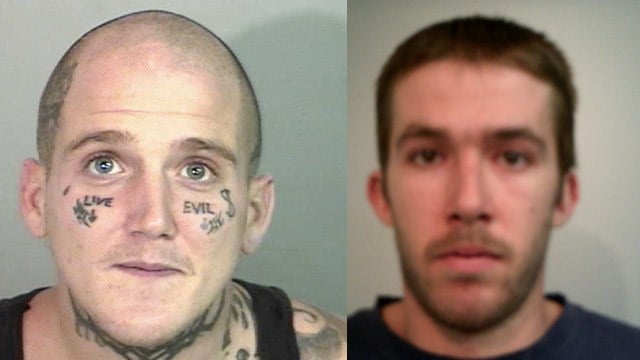 William Barr and Christopher Julian. (State police photos)
THOMPSON, CT (WFSB) -
Two suspects state police said were responsible for robbing a country store in Thompson back in September have been arrested.
Troopers said William Barr, 28, of Webster, MA and Christopher Julian, 23, of Dudley, MA, robbed the Bud Country Store on Quinabaug Road on Sept. 13, 2015.
At the time, a clerk said a man with a red bandanna over his face walked into the store just before 5 p.m. He was also wearing a black sweatshirt with a skull emblem on the front, dark-colored baggy sweatpants and black sneakers.
He allegedly lifted his sweatshirt to show a black-colored firearm in his waistband and demanded money.
Troopers said he took money from the register and fled into a silver sedan parked in a neighboring parking lot. The vehicle had Massachusetts registration plates.
The driver then headed northbound towards Dudley, MA.
Investigators were able to determine that Barr and Julian were suspects through surveillance footage and clothing found in Dudley, MA.
Warrants charge both with first-degree robbery and sixth-degree larceny.
Copyright 2016 WFSB (Meredith Corporation). All rights reserved.